Press Release
Virgin Galactic Announces 'Galactic 01' Crew Onboard the First Commercial Spaceflight
Italian Air Force and National Research Council Crew To Conduct
Scientific Research Experiments
'Galactic 01' Target Flight Date is June 29, 2023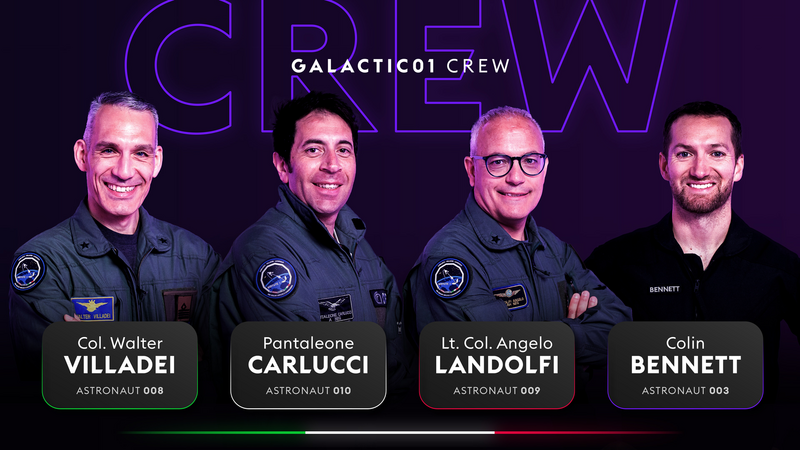 This historic mission is Virgin Galactic's first commercial spaceflight and represents a new era in government funded commercial human-tended research missions. The three-person crew from the Italian Air Force and National Research Council of Italy will board VSS Unity for a 90-minute flight to conduct a series of suborbital science experiments. VSS Unity's cabin will be transformed into a suborbital science lab to provide the environment for rack mounted payloads and for the crew to interact with wearable payloads.
Mission Objectives
Conduct 13 human-tended and autonomous experiments which examine biomedicine thermo-fluid dynamics, and the development of innovative and sustainable materials in microgravity conditions.

Read about all 13 experiments on board here.

Collect data through wearable payloads and sensors, and by autonomous payloads mounted in the cabin on Virgin Galactic's payload rack system.
Col. Walter Villadei

Astronaut 008 • Mission Commander, Italian Air Force

Qualified on Soyuz, ISS systems, and Orlan for EVA activities. In 2021, Col. Villadei started his professional astronaut training at NASA through Axiom Space and in 2022 qualified as the Ax-2 mission backup pilot. He performed multiple extreme analog training activities including centrifuge, parabolic flight, NOLS, survival training, flight training and scuba diving. Col. Villadei was the 'Virtute 1' mission commander. He tended to the rack-mounted payloads and wore a state-of-the-art smart suit to measure his biometric data and physiological responses. He was in charge of the research execution and the spaceflight will use part of his astronaut training for a future orbital space mission to the ISS.

Lt. Col Angelo Landolfi

Astronaut 009 • Physician, Italian Air Force

Undergraduate degrees in medicine & surgery, diving & hyperbaric medicine, and forensic medicine. Master's degrees in Public Health and Preventative medicine, and in International Military Strategic Studies. Ph.D. in Legal Medicine and Forensic Science. Trained as a crew surgeon as part of Cosmonaut training program and is a trained flight test surgeon. Lt. Col. Landolfi conducted tests on 'Galactic 01' to measure cognitive performance in microgravity and to investigate how certain liquids and solids mix in microgravity.

Pantaleone Carlucci

Astronaut 010 • Engineer, National Research Council of Italy

Energy engineer and pilot who has worked at the CNR for over 8 years in the fields of engineering of scientific instrumentation on aircraft platforms, with a focus on the implementation of payloads. In charge of technical coordination of strategic projects on stratospheric platforms and air launch. Member of various coordination committees set up under framework agreements that the CNS has signed with companies operating in the space and aerospace sectors. On the 'Galactic 01' mission served as flight engineer and payload specialist, wearing multiple sensors that examine heart rate, brain function and other human performance metrics during spaceflight and in microgravity.

Colin Bennett

Astronaut 003 • Astronaut Instructor, Virgin Galactic

Colin is the lead astronaut instructor carrying out all training and preparation for the Italian Air Force mission, and will fly with the crew to assess the research flight experience during the mission.

Colin is Astronaut 003, who joined Richard Branson on Virgin Galactic's first fully crewed mission, Unity 22. Previously served several roles in Mission Control including Flight Director.
Mike Masucci

Commander • VSS Unity

• FLYING SINCE: 1982

• NO. OF TYPES FLOWN: 80+

• MAIN TYPES FLOWN: U-2, F-16, T-38, Citation X

• TOTAL EXPERIENCE: 10,000+ Hours

Nicola Pecile

Pilot • VSS Unity

• FLYING SINCE: 1991

• NO. OF TYPES FLOWN: 170

• MAIN TYPES FLOWN: Tornado FMK, 3 ADV, NH-500E

• TOTAL EXPERIENCE: 7,700+ Hours

Kelly Latimer

Commander • VMS Eve

• FLYING SINCE: 1989

• NO. OF TYPES FLOWN: 50+

• MAIN TYPES FLOWN: T-38, C-141, C-17, T-34, B-747SP

• TOTAL EXPERIENCE: 6,700+ Hours

Jameel Janjua

Pilot • VMS Eve

• FLYING SINCE: 1995

• NO. OF TYPES FLOWN: 60+

• MAIN TYPES FLOWN: CF-18, F-16, Tornado GR4, F-15, Learjet

• TOTAL EXPERIENCE: 4,000+ Hours
Aleanna Crane
Vice President, Communications
Jeff Michael
Communications
Eric Cerny
Vice President, Investor Relations
About Virgin Galactic
Virgin Galactic is an aerospace and space travel company, pioneering human spaceflight for private individuals and researchers with its advanced air and space vehicles. It has developed a spaceflight system designed to connect the world to the love, wonder and awe created by space travel and to offer customers a transformative experience. You can find more information at https://www.virgingalactic.com/.
Forward-Looking Statements
This press release contains forward-looking statements within the meaning of the Private Securities Litigation Reform Act of 1995. We intend such forward-looking statements to be covered by the safe harbor provisions for forward looking statements contained in Section 27A of the Securities Act of 1933, as amended (the "Securities Act") and Section 21E of the Securities Exchange Act of 1934, as amended (the "Exchange Act"). All statements contained in this press release other than statements of historical fact, including, without limitation, statements regarding our spaceflight systems, expected flight schedule and window, expected inflight activities, providing safe and repeatable access to space, our research capabilities for our Delta fleet, astronaut experience, and future astronauts, pilots and crew are forward-looking statements. The words "believe," "may," "will," "estimate," "potential," "continue," "anticipate," "intend," "expect," "strategy," "future," "could," "would," "project," "plan," "target," and similar expressions are intended to identify forward-looking statements, though not all forward-looking statements use these words or expressions. These statements are neither promises nor guarantees, but involve known and unknown risks, uncertainties and other important factors that may cause our actual results, performance or achievements to be materially different from any future results, performance or achievements expressed or implied by the forward looking statements, including but not limited to the factors, risks and uncertainties included in our Annual Report on Form 10-K for the fiscal year ended December 31, 2022, as such factors may be updated from time to time in our other filings with the Securities and Exchange Commission (the "SEC"), accessible on the SEC's website at www.sec.gov and the Investor Relations section of our website at www.virgingalactic.com, which could cause our actual results to differ materially from those indicated by the forward-looking statements made in this press release. Any such forward-looking statements represent management's estimates as of the date of this press release. While we may elect to update such forward-looking statements at some point in the future, we disclaim any obligation to do so, even if subsequent events cause our views to change.