Press Release
Virgin Galactic Broadens Access to Space with First Private Astronaut Mission 'Galactic 02'
Historic Mission Will Fly First Olympian and First Female Astronauts from the Caribbean to Space
Flight Window Opens August 10, 2023
Spaceflight to be Livestreamed on VirginGalactic.com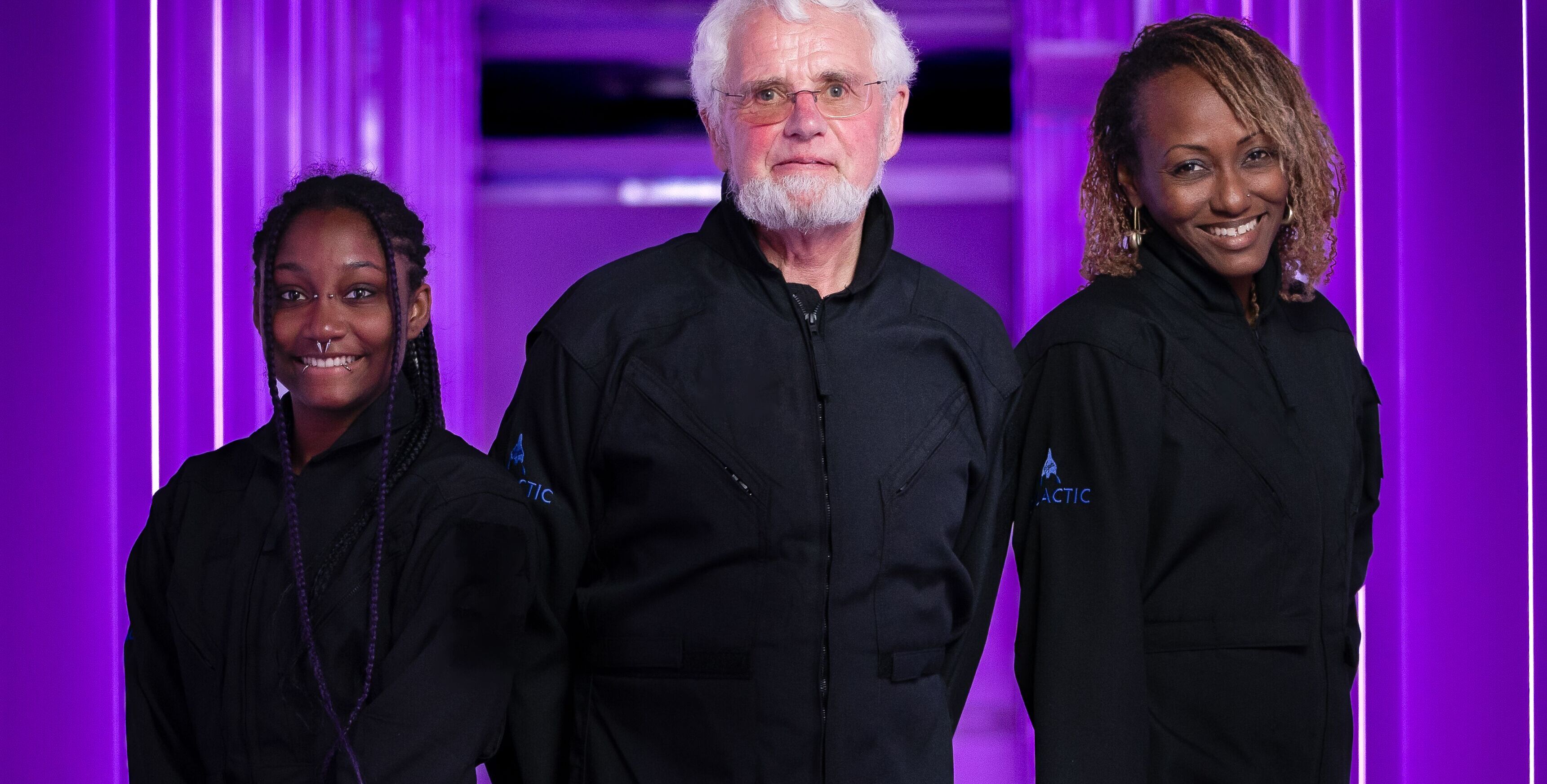 Virgin Galactic's seventh spaceflight and second commercial spaceflight, 'Galactic 02' will fly three private passengers to space, achieving several historical milestones and furthering Virgin Galactic's mission of broadening access to space. VSS Unity will carry 80-year-old Jon Goodwin, Olympian and early Virgin Galactic ticket holder, as well as Keisha Schahaff and Anastatia Mayers, a Caribbean mother-daughter duo who won their seats in a draw that raised funds for non-profit Space for Humanity.
The dynamic and multi-national crew highlights the role the commercial space industry can play in removing barriers that once existed to becoming an astronaut. To date, fewer than 700 people have traveled to space, with little diversity among that group. Virgin Galactic's mission is to change that – beginning with an 800 strong Future Astronaut community that represents more than 60 different nations.
Jon Goodwin

Virgin Galactic Astronaut 011 and First Olympian to travel to space

• An 80-year-old adventurer and first Olympian to travel to space (Jon competed in the 1972 Munich games).

• Diagnosed with Parkinson's in 2014, Jon will be only the second person to travel to space with the condition.

Keisha Schahaff

Virgin Galactic Astronaut 012 and First Female Astronaut from the Caribbean

• A 46-year-old mother of two daughters, entrepreneur and health and wellness coach from Antigua and Barbuda.

• Beneficiary of two spaceflight seats in a historic draw which raised $1.7M in grants for non-profit Space for Humanity.

• Passionate about empowering women to live their best lives.

Anastatia Mayers

Virgin Galactic Astronaut 013 and Youngest Person to Travel to Space

• An 18-year-old university student who was born and raised in Antigua and Barbuda.

• Student at the University of Aberdeen in Scotland in her second year studying Philosophy and Physics.

• Together with Keisha, the two will become the first mother and daughter to travel to space together.

Beth Moses

Virgin Galactic Astronaut 002 and Chief Astronaut Instructor

• Lead astronaut instructor carrying out all training and preparation for 'Galactic 02'; Beth will fly with the crew to assess the inflight experience while continuing to refine Virgin Galactic's training program.

• Beth was the first woman to fly to space aboard a commercial space vehicle, earning her FAA commercial astronaut wings in 2019.

• 'Galactic 02' marks Beth's fourth flight to space with Virgin Galactic.
CJ Sturckow

Commander • VSS Unity

• FLYING SINCE: 1984

• NO. OF AIRCRAFT TYPE FLOWN: 65+

• MAIN TYPES FLOWN: F/A-18, T-38, Space Shuttle

• TOTAL EXPERIENCE: 8,700+ Hours

• SPACEFLIGHTS: 8th

Kelly Latimer

Pilot • VSS Unity

• FLYING SINCE: 1989

• NO. OF AIRCRAFT TYPE FLOWN: 50+

• MAIN TYPES FLOWN: T-38, C-141, C-17, T-34, B-747SP

• TOTAL EXPERIENCE: 7,000+ Hours

• SPACEFLIGHTS: 1st

Nicola Pecile

Commander • VMS Eve

• FLYING SINCE: 1991

• NO. OF AIRCRAFT TYPE FLOWN: 170+

• MAIN TYPES FLOWN: Tornado FMK.3 ADV, NH-500E

• TOTAL EXPERIENCE: 8,000+ Hours

• SPACEFLIGHTS: 1

MIKE MASUCCI

Pilot • VMS Eve

• FLYING SINCE: 1982

• NO. OF AIRCRAFT TYPE FLOWN: 80+

• MAIN TYPES FLOWN: U-2, F-16, T-38, Citation X

• TOTAL EXPERIENCE: 10,000+ Hours

• SPACEFLIGHTS: 4
Download Galactic 02 Assets
Aleanna Crane
Vice President, Communications
Jeff Michael
Communications
Eric Cerny
Vice President, Investor Relations
ABOUT VIRGIN GALACTIC
Virgin Galactic is an aerospace and space travel company, pioneering human spaceflight for private individuals and researchers with its advanced air and space vehicles. It has developed a spaceflight system designed to connect the world to the love, wonder and awe created by space travel and to offer customers a transformative experience. You can find more information at https://www.virgingalactic.com/.
About Space For Humanity
Founded by space entrepreneur Dylan Taylor in 2017, Space for Humanity is expanding access to space for all of humanity. The nonprofit created the planet's first Sponsored Citizen Astronaut Program, giving leaders, from any walk of life, the opportunity to apply to go to space and experience the Overview Effect: the cognitive shift in awareness that occurs when a human being looks down on the Earth from space. Through its citizen spaceflight program, leadership training, and collaborative efforts to educate the public, Space for Humanity is setting the stage to create the world we want, both here on Earth and throughout the cosmos. For more information, please visit www.spaceforhumanity.org.
Forward-Looking Statements
This press release contains forward-looking statements within the meaning of the Private Securities Litigation Reform Act of 1995. We intend such forward-looking statements to be covered by the safe harbor provisions for forward looking statements contained in Section 27A of the Securities Act of 1933, as amended (the "Securities Act") and Section 21E of the Securities Exchange Act of 1934, as amended (the "Exchange Act"). All statements contained in this press release other than statements of historical fact, including, without limitation, statements regarding our spaceflight systems, expected flight schedule, access to space, validation of the astronaut experience and achievements of our future crew are forward-looking statements. The words "believe," "may," "will," "estimate," "potential," "continue," "anticipate," "intend," "expect," "strategy," "future," "could," "would," "project," "plan," "target," and similar expressions are intended to identify forward-looking statements, though not all forward-looking statements use these words or expressions. These statements are neither promises nor guarantees, but involve known and unknown risks, uncertainties and other important factors that may cause our actual results, performance or achievements to be materially different from any future results, performance or achievements expressed or implied by the forward-looking statements, including but not limited to the factors, risks and uncertainties included in our Annual Report on Form 10-K for the fiscal year ended December 31, 2022, as such factors may be updated from time to time in our other filings with the Securities and Exchange Commission (the "SEC"), accessible on the SEC's website at www.sec.gov and the Investor Relations section of our website at www.virgingalactic.com, which could cause our actual results to differ materially from those indicated by the forward-looking statements made in this press release. Any such forward-looking statements represent management's estimates as of the date of this press release. While we may elect to update such forward-looking statements at some point in the future, we disclaim any obligation to do so, even if subsequent events cause our views to change.